January 2, 2016
Eric Dafoe labored mightily in Glacier National Park to keep the public safe. A Parks Canada Public Safety Warden and Avalanche Technician, he rescued those in trouble in the backcountry despite the risk to himself and stewarded the wild land and its creatures.
Scratch any person and tragedy will bubble up. Dafoe had had his own share. A world-class athlete, his legs traveled hundreds of miles a year on snow and rock in some of the mightiest terrain in the world. On February 1, 2003, as he was headed to the hardware store on his day off, his phone rang. His life would never be the same.
Strathcona Tweedsmuir School (STS) was a legend in its own time as a patrician school for the children of Calgary's rich and powerful. In addition to excellence in academics and personal character, the School had a storied Outdoor Education program that created many alumni's most cherished memories. That cold February day a tenth grade Outdoor Education class was experiencing the Program's highlight, a backcountry ski trip through snow laden Connaught Creek valley in British Columbia five kilometers up to a headwall called Balu Pass.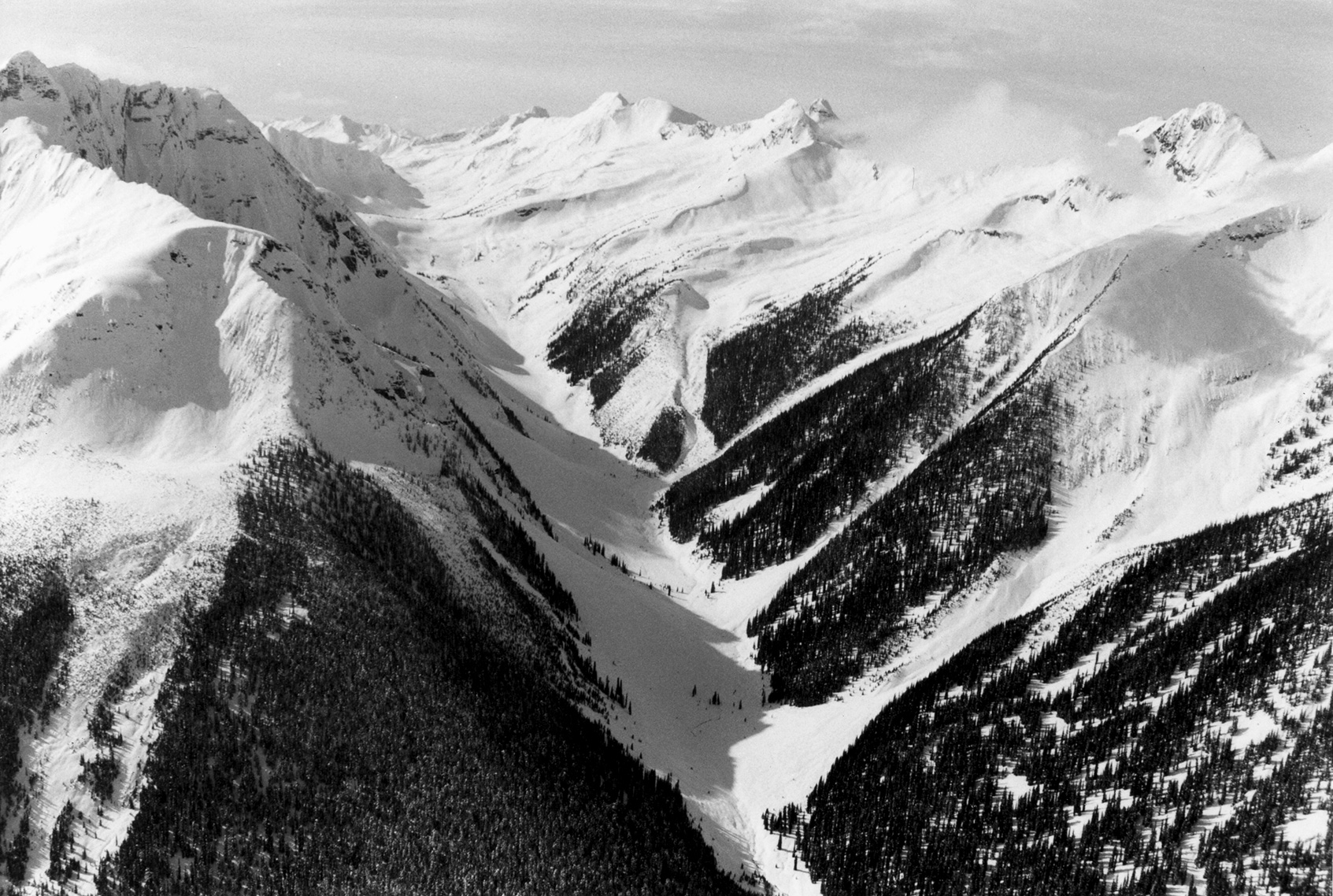 It was an unusual winter with a perilous snowpack. Twelve days earlier seven expert skiers climbing with renowned Mountain Guide Ruedi Beglinger had perished in an avalanche on nearby Tumbledown Mountain. Skiing with them was mountain guide Ken Wylie, who was deeply buried and dug out 35 minutes later by his clients in a miracle save.
The 14 STS students included Scott Broshko, a gifted boy who had just found his first girlfriend and loved hockey, band, and hijinks with his friends, and impish, big-hearted Dan Arato who rode a unicycle, juggled and was a world class cut-up. They were chaperoned by two Strathcona teachers and a friend, and had entered the trail after a night in a backcountry lodge where Scott's group had burned their quesadillas.
Three and a half kilometers in, the students were skiing in buddy pairs. One felt ill and had gone to the back of the group. Without warning a once-in-a-century avalanche roared down from mighty Mt Cheops on one side of the valley, crossed the valley floor, raged up the other side burying the entire group, then took an almost unheard of sharp right hand turn and roared down-valley. The avalanche threw people uphill and into trees, dragged four students one and a half kilometers, and submerged seven students two to three meters deep in snow which set like concrete.
Two mountain guides taking a tea break above the students watched the group be engulfed and were themselves blown by the snow and wind blast. They raced to the rescue. By the time the first helicopter arrived one hour later, the group and guides had saved ten souls. Scott and Dan were among the dead. Wylie, on his first day back on skis, joined the rescue. Over sixty mountain guides and professionals, eight helicopters, and three dog teams braved the risk of a second slide to rescue the survivors and attempt to save the victims. Dafoe led the rescue having been ferried to the Rescue Command Centre by helicopter. Rescuers described it as a war zone.
Seven children were lost. The nation's psyche was scarred.
The families, the School, the rescuers, the nearby town of Revelstoke, Calgary and all of Canada writhed in paroxysms of grief and a national outpouring of sympathy. In their anguish, Scott's and Dan's parents joined with Dafoe, Parks Canada CEO Alan Latourelle, newly hired avalanche risk specialist Grant Statham and others to create sweeping new safety regulation and avalanche risk technology, so that such a tragedy would never happen again.